We Are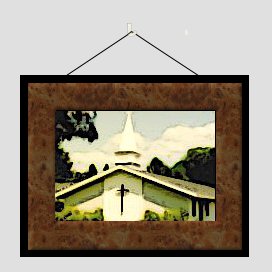 Prince of Peace Evangelical Lutheran Church has served the Traverse City region since 1983. It was started as a mission church by the Wisconsin Evangelical Lutheran Synod.
Our church is a Bible based church. This means that we believe that the Bible is God's Word and that every word of the Bible comes from God. Therefore, the Bible has no errors and is the only authority that determines our beliefs.
Our church is a Christian church. This means that we believe that all people are conceived and born in sin and as a result under God's condemnation. We believe that Jesus Christ is God's own Son and that he came into this world to be the Savior of all people. Through his perfect life, sufferings and death on the cross, and resurrection, Jesus paid for the sins of all people. We believe that the Holy Spirit creates faith in a person to believe in Jesus as their Savior. It is only by this faith that we have the forgiveness of sins and the sure hope of eternal life.
Our church is a Christian family. We gather together for worship and Bible study. We encourage each other with fellowship activities. We help our community by supporting the work of various community agencies.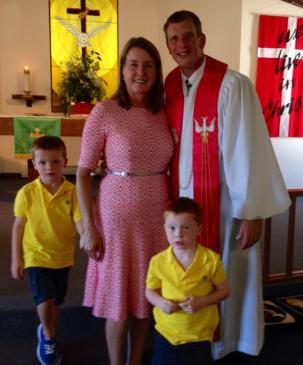 Pastor Stephen Raddatz was born March 17, 1965 in Yale, MI. Shortly after birth his parents moved to Beaver Dam, WI and when he was five to New Ulm, Minnesota. His parents are Professor emeritus Darvin and Marie Raddatz of New Ulm, MN. Pastor has three brothers and a sister. After attending St. Paul's Lutheran School in New Ulm, he attended high school at Minnesota Valley Lutheran High School, graduating in 1983. He attended college at Northwestern College in Watertown, WI and graduated in 1987 with a Bachelor of Arts degree.
Pastor Raddatz received his seminary training at Wisconsin Lutheran Seminary in Mequon, Wisconsin. His theological training included Biblical Theology (translation of the bible from the Original Greek, Hebrew, and Aramaic), Historical Theology, Practical Theology (Christian counseling, sermon preparation and delivery, worship) and Systematic Theology (the discipline of organizing and clearly presenting the teachings of the Bible).

Pastor Raddatz graduated from the Seminary in 1991 and was assigned to be a tutor at Nebraska Evangelical Lutheran High School in Waco, NE. While serving at NELHS he served as the boys' dorm supervisor and taught German, typing, and some history. He was also called upon to be the plant supervisor during a vacancy.

In 1993 Pastor Raddatz was assigned to serve Trinity Lutheran Church in Jenera, Ohio. While at Trinity, he taught half-days in the school and served as the youth pastor.

In 1998 Pastor Raddatz accepted the Call to serve St. Mark Evangelical Lutheran Church in Lincoln, NE. During his years in Lincoln, he was called upon to serve as the Nebraska District Chairman for the Ministry of Christian Giving.
In December of 2007, he married Kim. They have twin boys: Jacob and Joshua.
Pastor Raddatz accepted the Call to serve Prince of Peace Lutheran Church in July 2014 and was installed on September 7, 2014.
In his free time Pastor Raddatz enjoys spending time with his wife and boys, doing outdoor activities, sports, reading, and traveling.